(Dimitris Vetsikas/Pixabay)

Play sports. Embrace family and friends. Go to school or to the doctor. What is the risk of exposure to COVID-19 for each of these activities in children who are not yet eligible for the COVID-19 vaccine?
"Calculating the risk of how to keep my children safe in a COVID world where masking is very inconsistent is very exhausting," said Dr. Eve Bloomgarden, endocrinologist and COO of the collaborative team at Illinois Health Professionals Action (IMPACT) who has two children under the age of 6. "There hasn't been a more difficult time than right now with our children who are currently not eligible for the vaccine because they are too young."
To help people better understand the risks for children under 12, IMPACT and the Illinois State Medical Society asked 126 physicians from various specialties, including pediatricians and infectious disease specialists, to rate the risk of exposure to COVID-19 associated with a range of activities depending on whether or not guidelines for face masks and social distancing are followed.
Top of the list, in terms of risk: sleepovers with multiple households, attending an indoor event with more than 50 people, and singing in a choir, even when masks are worn.
"When you put people from different households indoors in situations where they're exchanging air for long periods of time, the longer the time and the more people congregating, the greater the risk of transmission. high," Bloomgarden said. "And it certainly gets amplified when you're singing loudly or shouting in a choir."
Although small indoor gatherings are less risky than large ones, both pose a risk, especially if masks are not worn, according to Bloomgarden. By comparison, attending an outdoor event with more than 50 people is less risky than a small indoor gathering, according to the survey.
But not all outdoor activities pose the same risk of exposure.
High-contact outdoor sports like basketball, cheerleading, and soccer have a higher risk of exposure than low-contact sports like dancing, tennis, swimming, and baseball. This is because in high-contact sports, participants breathe heavily in close proximity, Bloomgarden explains. "And every time the air is traded, we see a significant increase in risk."
High-contact sports also pose a higher risk of exposure to COVID-19 than going to a public outdoor pool, beach or playground, according to the survey.
Face-to-face school risk, carpooling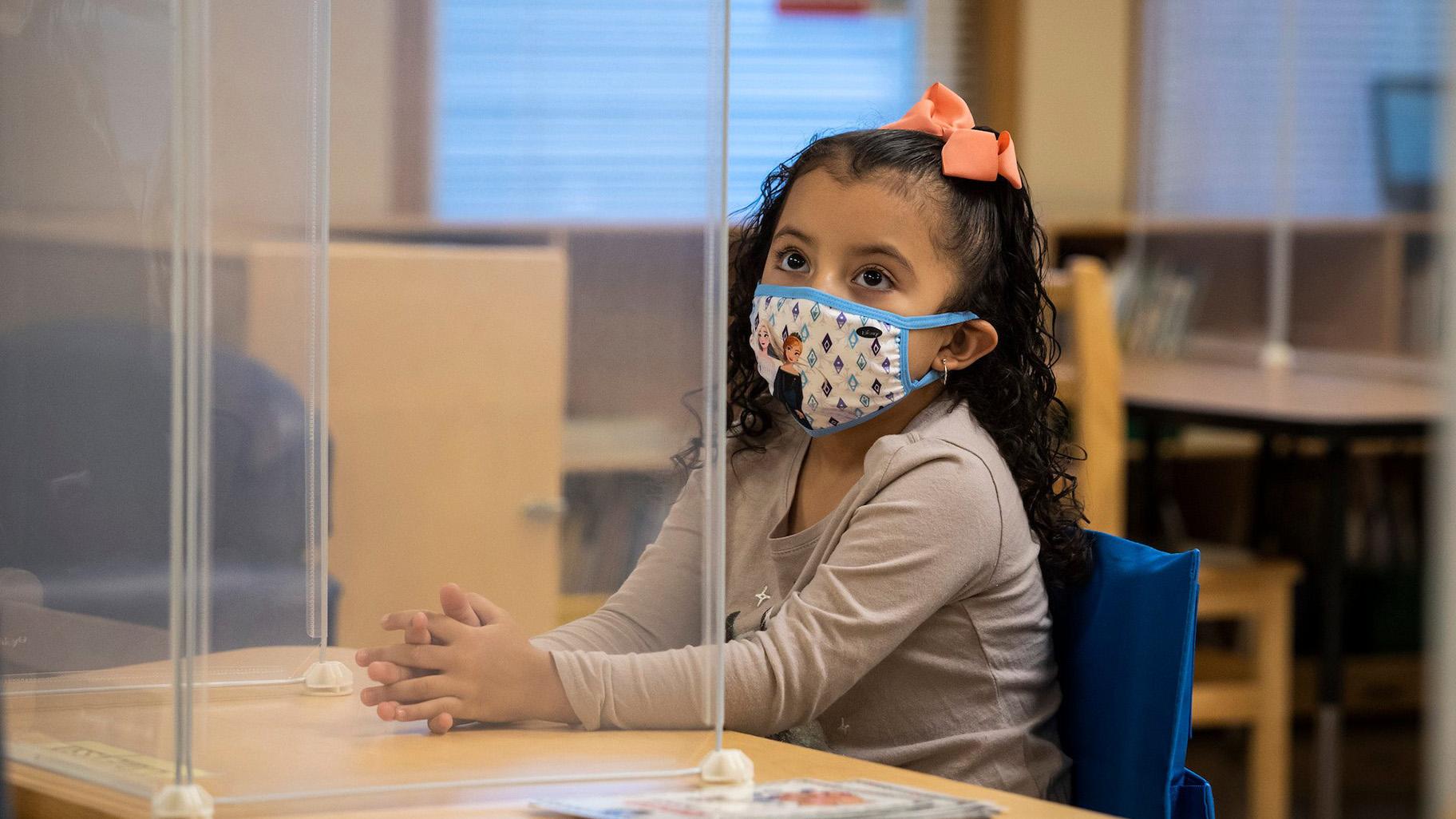 A preschooler listens to her teacher speak during class at Dawes Elementary School at 3810 W. 81st Place on the southwest side, Monday morning, Jan. 11, 2021. (Ashlee Rezin Garcia/Chicago Sun-Times/Pool)

The upcoming school year brings with it questions about in-person learning. According to the survey, when masks and social distancing guidelines are followed, in-person learning poses a low risk of exposure to COVID-19. This risk increases, however, when masks are not worn and social distancing is not practiced.
"Masks make a big difference in children's perception of risk, especially when considering attending school in person," Bloomgarden said. "Exchanging air indoors without a mask is the highest risk and the more people you bring into an environment the greater the risk, and much of that risk can be mitigated by masking."
Last week, the Centers for Disease Control and Prevention recommended universal face coverings for teachers, staff, students and visitors to schools nationwide, regardless of vaccination status. The Illinois Department of Public Health and the Illinois State Board of Education have also adopted similar recommendations.
But Bloomgarden says that's not enough. She says a federal or statewide mask mandate is needed.
"We need strong guidance from at least the state, but ideally the federal government," she said, adding that IMPACT is behind a Change.org petition calling for universal masking requirements in schools. "It's such an easy thing to do. Wearing a mask works best when everyone wears one.
Even bringing children to school can pose a risk. Carpooling with the windows closed poses an average risk even when masks are worn, and this risk increases without a mask.
"It seems innocent to pick up kids, but you have to wear masks or close windows because you're putting kids in a very risky situation where they're exchanging air indoors," Bloomgarden said.
Low risk activities
Going to the doctor or dentist was associated with low or moderate risk, depending – again – on whether or not masks were worn, the survey found.
"What this shows is that masking makes a huge difference in this scenario because people often come to their doctors feeling sick," Bloomgarden said. "You can go to the doctor safely, but you have to wear a mask. … Doctors and dentists wear (personal protective equipment) and are more likely to be vaccinated than if you went to the supermarket. …It's as safe an environment as possible and you definitely shouldn't skip your tours for fear of contracting COVID.
Dining out at a restaurant, attending a backyard barbecue and hugging a fully vaccinated person are among the activities associated with the lowest risk of exposure to COVID-19 in children under 12, according to the report. 'investigation.
Bloomgarden said it hopes the survey will help people make informed decisions and understand the importance of masks. "Ultimately, we can do our part to keep our children and ourselves safe until the vaccine is available to everyone," she said.
With the surge in coronavirus cases fueled by the delta variant, Bloomgarden is encouraging everyone who is eligible for the vaccine to get it.
"There is no other exit strategy. Anyone who hasn't been vaccinated, it's time," she said, adding that vaccines are safe and effective. "You put a man on the moon, you can convince people to get vaccinated. We have to be better, we have to support each other and stop attacking each other and keep the end goal in sight."
When vaccines become available for young children, she hopes people will follow the lead of medical professionals, who overwhelmingly say they will vaccinate their children.
Of 114 physicians surveyed, 77% said they would vaccinate their children once a vaccine was approved by the Food and Drug Administration and granted emergency use authorization. Only 4% said they would not vaccinate their children.
"Every day we wait for it," said Bloomgarden, who intends to have her two children vaccinated as soon as possible. "When the FDA gives its approval, I will be the first along with many of my fellow physicians."
Those who do not plan to vaccinate their children will remain at risk of being infected with COVID-19, the long-term effects of which are unknown, according to Bloomgarden.
Contact Kristen Thometz: @kristenthometz | (773) 509-5452 | [email protected]